Richard Branson is notorious and famous, but thankfully, the former has nothing to do with the latter. His mantra in life is to be yourself – an important quality that many fail to understand and implement in life. It is then apparent that everything should begin with introspection accompanied by a bit of research. Richard Branson, however, would differ. For him everything starts with enjoyment and entertainment.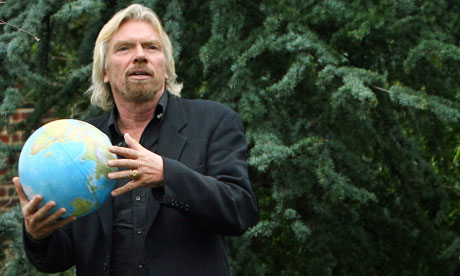 You don't come across people who celebrate dropping-out from school or college very often, and in that way Branson's league is rare. "Had I pursued my education long enough to learn all the conventional dos and don'ts of starting a business I often wonder how different my life and career might have been", he says. CareerBuilder India brings young business aspirants an outlandish approach to success that has been propagated and reflected in everything that Richard Branson does.
1) Learn to Enjoy: Having fun is important. You ought to have fun not just outside of business but at business as well. In fact, enjoying what you do can solve the whole purpose. The point here is whether you truly love your work are making every effort to compromise. Branson says building a business is not about building an empire; it is about building something that you love to do.
2) Stay Connected to Sell Well: A report published on The New York Times talks about how Branson sells himself as an entrepreneur. You might call him an opportunist but Branson knows how to stay connected and spread the word. So when he says 'pick up the phone' he means two things: a) keep in touch b) use Virgin mobiles. You get the point, right?
3) Get Noticed: Business and success cannot be managed from within the office premises. You need to be in the public eyes, always. Meeting your clients doesn't suffice; and, by being known only amongst employees, no one would really know you outside your building. Be in news so that the world knows what you are up to. Whatever you do must make the headlines.
4) Dream Big: Everyone dreams, so why not dream big. The man who started a business of his own at the age of 19 definitely knows how it feels to dream big and pursue your dreams. The biggest dream that Branson is planning is the Virgin Galactic, a vehicle for space travel. His space quest is nearing its destination, which proves that dreaming big is the first step towards step. The Verge report published on March 8, 2013 talks in detail how Branson made it possible. The world wonders what's next!
5) Name Wise be Wise: Your business, be it HR, IT or finance, will be recognized by most through its name. Make it reflect the true essence of your business. Moreover, you have to very careful about how your brand name is going to be interpreted.
The unabashed entrepreneur who thinks that saying 'yes' is fun, has been everywhere where the devil fears to tread. His approach in life is simple – have fun, and take calculated risks. A flexible and open management style makes him a pioneer in the arena of leadership. Money is an altogether different thing for Branson. He says, "If you want to be a Millionaire, start with a billion dollars and launch a new airline."
Image courtesy www.guardian.co.uk
( 62 visits )